ACHETEZ MAINTENANT
▌ DÉTAILS DU PRODUIT :
Description:
Kid's colorful childhood deserves a distinct child bed!
Different from traditional platform bed, ours is designed with a house shape, enabling parents to hang ribbons, flags and lanterns on rails or cover with a tent (not included). This feature makes it possible to turn it into a bed and a playhouse. When it serves as a playhouse, open structure ensures good air circulation. When it works as a platform bed with a trundle, it provides sufficient sleeping area for two kids to share secrets. Also, trundle features PV casters and is removable. As a reminder, the mattress thickness for twin bed is 6″ and for trundle should lower than 6″. Finally, the house bed is super stable. It is supported by solid wood frame and plywood slats, twin bed's load capacity is 400 lbs and trundle's load capacity is 200 lbs.
Caractéristiques:
House shape very attractive to children
Serves as a private space for kids when it is covered with a tent (not included)
Dual bed design suitable for friends to sleep over
Recommended 6″ mattress thickness for upper bed and
PV casters enables you to pull trundle out smoothly
Plywood slats to reduce the squeaking sound cased by turning over
Solid wood structure for excellent firmness and load capacity
No need for an extra box spring
Assembly is a piece of cake and very quick
Caractéristiques:
Color: White
Material: Solid Wood, Engineered Wood, Plywood
Overall Dimension: 79.5″ x 45″ x 80.5″ (L x W x H)
Recommended Mattress Thickness for Upper Bed: 6″ (H)
Recommended Mattress Thickness for Trundle
Load Capacity for Upper Bed: 400 lbs
Load Capacity for Trundle: 200 lbs
Net Weight: 89.5 lbs
Le forfait comprend :
1 x House Bed
1 x User Guide
▌ Contact & Retours :
If you have questions about purchases from us contact us through eBay's Message Center.
Les articles doivent être retournés dans leur emballage d'origine et tous les accessoires de l'envoi d'origine doivent être inclus si vous retournez l'article.
▌ Expédition :
• Livraison standard gratuite sur tous les articles.
• Toutes les commandes sont expédiées via UPS, USPS ou LTL.
• Le temps de transit est de 2 à 7 jours ouvrables, selon l'emplacement du client jusqu'au centre de distribution.
• Les numéros de suivi seront automatiquement mis à jour une fois la commande expédiée.
• Nous expédions uniquement vers les 48 États inférieurs, aucune expédition actuelle vers Hawaï, l'Alaska, Porto Rico ou Guam.
• Nous ne livrons pas aux boîtes FPO, APO ou PO.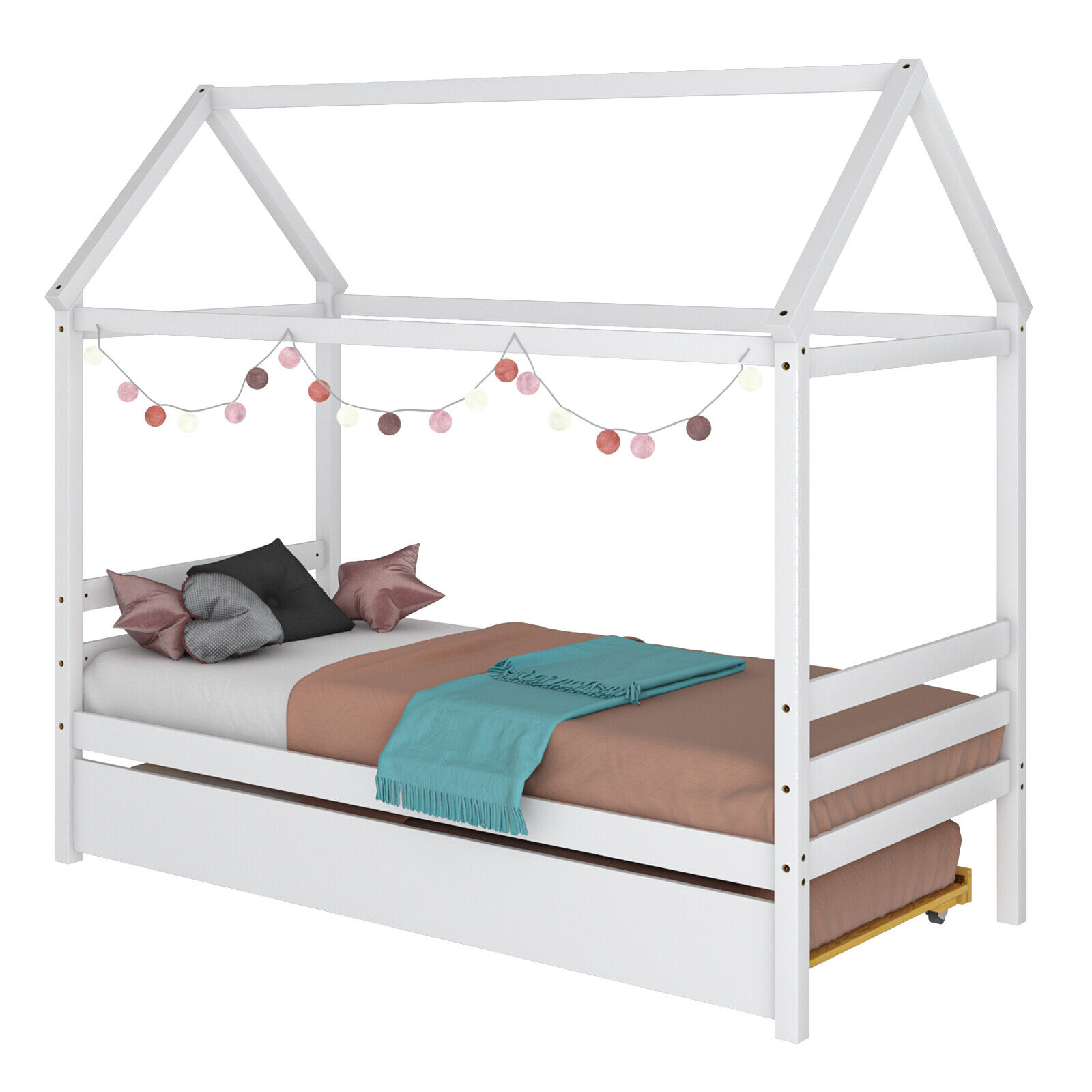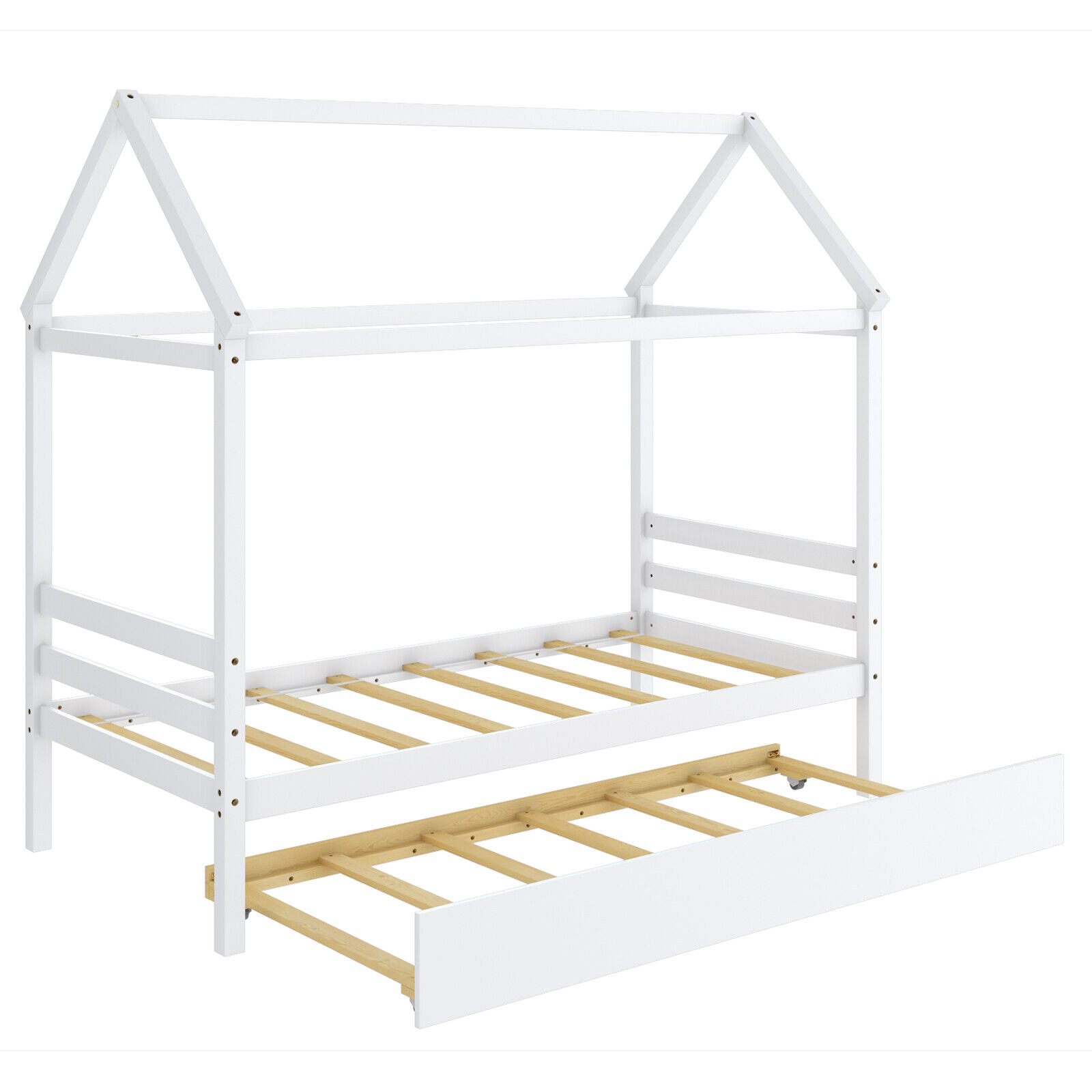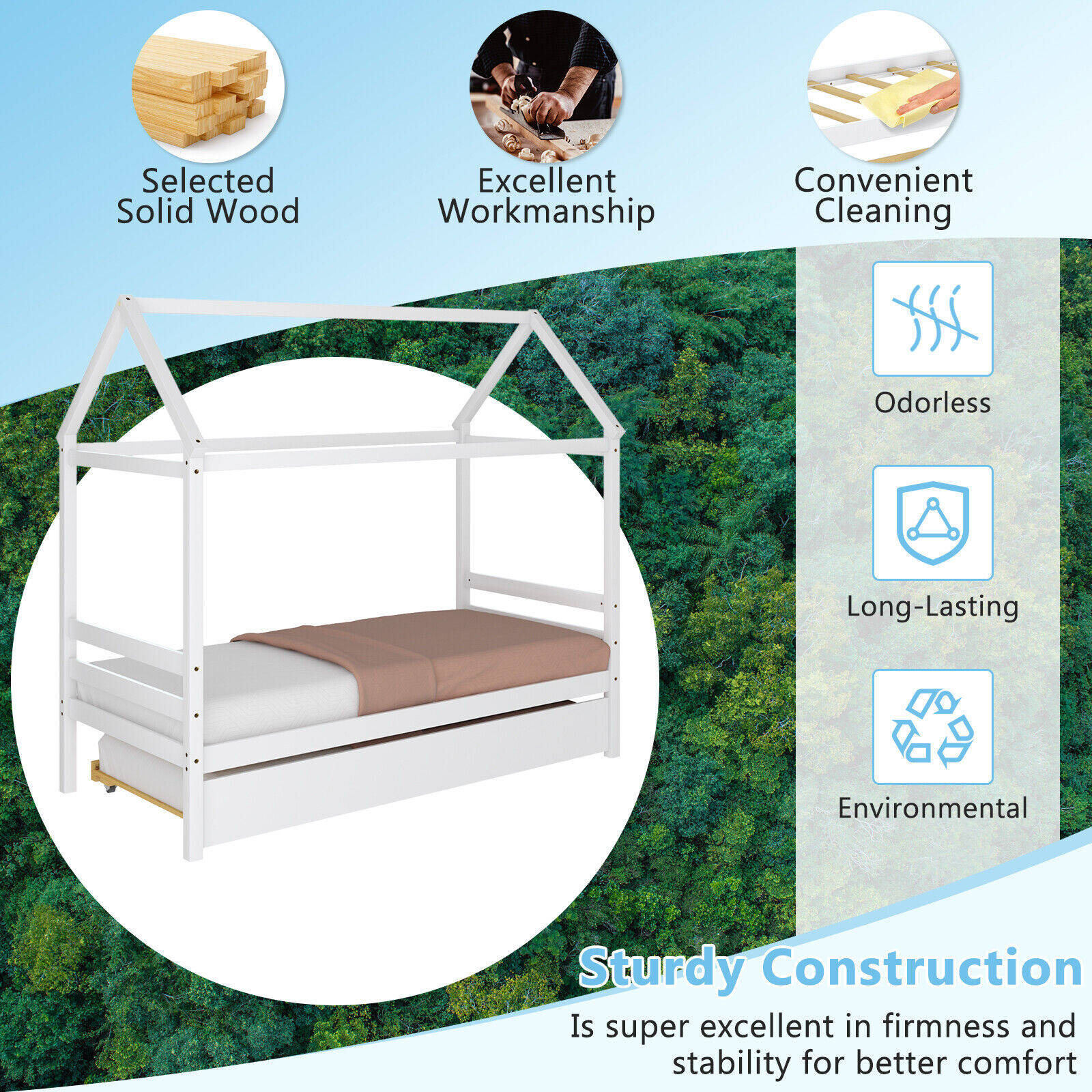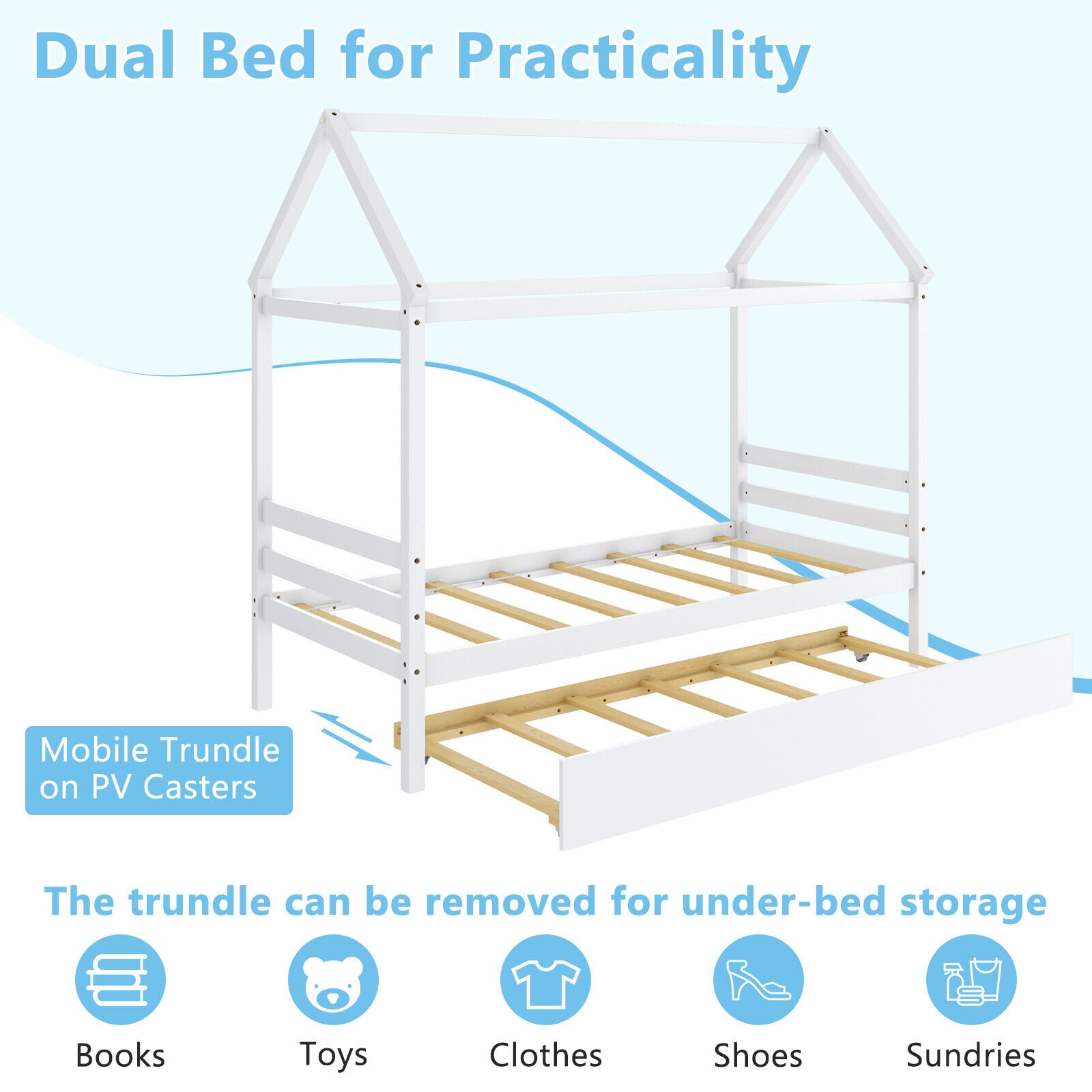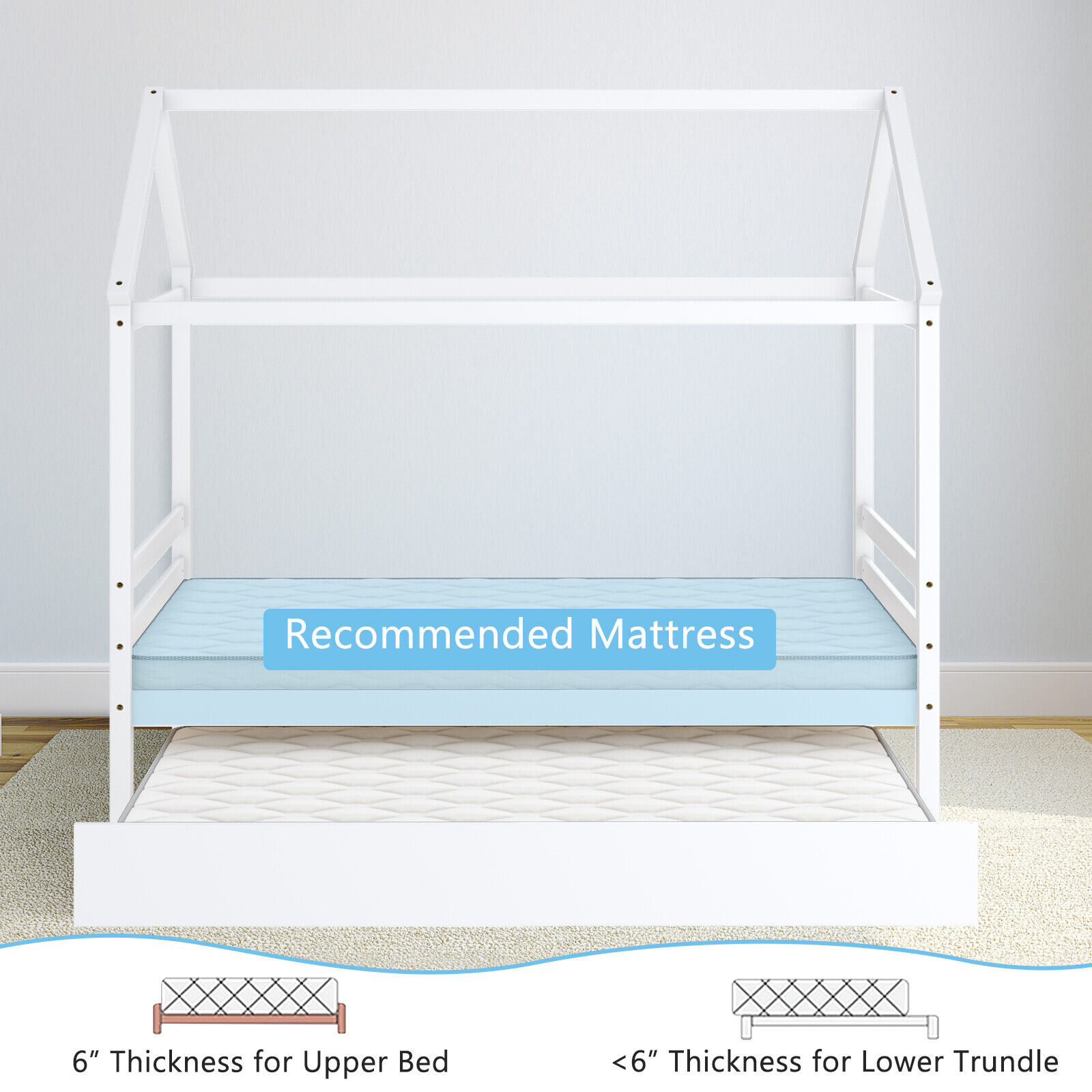 ---